Automation Testing Services
Products
WinQI has been developed for the assistance of automation engineers seeking to develop automated scripts on a windows platform. No matter what type of application you develop on a windows platform there are some unique features of that application which can be identified using Windows API. These accessible objects is what is all that is needed to write and develop some successful automation scripts.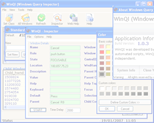 View All Elements:
WindowClass, ControlID, WindowCaption, WindowHandle, WindowHotKeys, MSAA Infomation, Bitmap etc...
---
Purchase - WinQI
| License Type | Price | BuyNow |
| --- | --- | --- |
| Single User | €19.95 | |
| Multi User (1 - 5 users) | €79.95 | |
| Site License (Unlimited) | €129.95 | |
RegSearch is a unique utility for any windows based user. Quite often in large companies users get moved around and pc's get swapped as so details stored on a pc's registry may need to be replaced, with RegSearch you can search the entire registry an retrieve a complete list of all instances of the search value.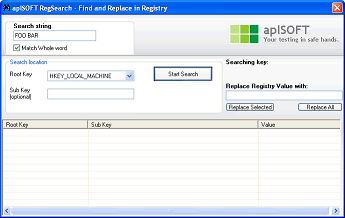 Easy to Use:
Search Registry for String, then enter text to replace it with and select replace all or replace selected items from the list.
---
Purchase - RegSearch
| License Type | Price | Buy Now |
| --- | --- | --- |
| Single User | €9.95 | |
| Site License (Unlimited) | €39.95 | |
---